Sheds and country mansions
British rocket science is housed in the most oddest of places. Tucked away in the Surrey countryside, up a narrow lane miles from nowhere in particular is the
Mullard Space Science Lab
(MSSL)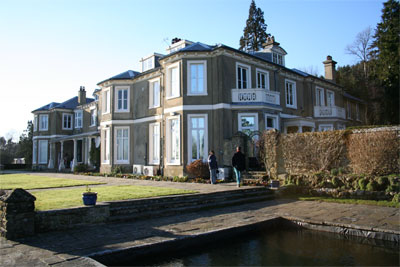 Who would think, looking at that picture, that this is the home to some of the latest and advanced space science payloads? MSSL has been in this business for numerous years and has contributed to the advancement of astronomical discovery in many exciting ways. Most recently it sent up equipment onboard the Cassini mission to Saturn. As well as many notable successes there have been a few disastrous failures. Whilst on a recent trip to MSSL, we got a guided tour of the facilities and had a chance to check out the numerous achievements at MSSL. Amongst some of the latest work to be done at the lab is the develop of equipment onboard the Solar-B mission.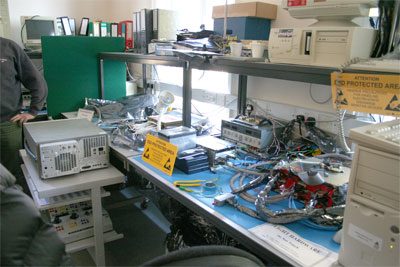 The scene above shows an engineering model of Solar-B. You can see the various connectors, wires, computational equipment and sensor systems, camera's etc. Doesn't look like much at first glance, but once all this high tech gadgetry is packaged up in to Solar-B and sent up in to space it will provide scientists with a unique new insights in to sun. Solar-B is the follow-up mission to the very successful Japan/UK/US Yohkoh mission. Using a combination of optical, EUV and X-ray instrumentation Solar-B will study the interaction between the Sun's magnetic field and its corona to increase our understanding of the causes of solar variability. It will be launched later in 2006.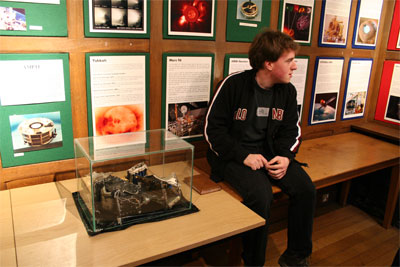 Pictured above are some pieces of dark history at MSSL. Back in 2002, Ariane Space launched its first new Ariane 5 heavy launch rocket. Unfortunately the maiden voyage ended in disaster and had to be aborted by ground controllers in mid-flight. Onboard was ESA's
Cluster
mission, large parts of which were built at MSSL. Salvaged from the marshes of French Guiana were some pieces of the debris and what you see pictured above is a segment of the Cluster probe that was recovered. Sitting next to it is one of MSSL enthusiastic PhD students who told us about the disastrous incident.
MSSL is a fascinating place to visit. Outside the main building you'll find long sheds that look just like – well – sheds! From the outside you would never imagine that the lathes, drilling machines, work benches and other equipment was being put to use to build some of the most high-tech space equipment in the world. Elsewhere on site MSSL are developing new clean rooms – ultra clean environments in which they can assemble and construct some of the highly sensitive equipment that will eventually launch in to space. MSSL is an adjunct facility of
University College London
who have their main campus on Gower Street in central London.