Glorious Saturn rises in the east
Ah, my favourite planet is back. Saturn is rising earlier. From my back garden I'm getting a clear and unobstructed line of site to the ringed giant. I spent a good three hours imaging Saturn on 17th December 2005. Temperatures had dipped to almost -2C in the local area so it was back to looking like an Inuit again!
Click on each image to view it at the proper size.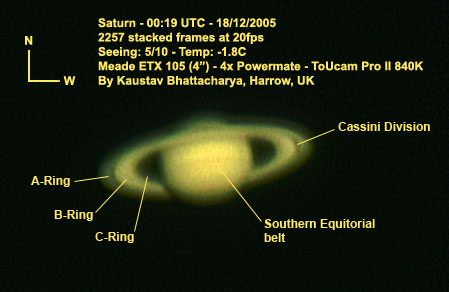 Tonight I tested out my IR filter for the first time, though I must admit on Saturn it made little difference compared to images without the IR filter. I've read that a yellow #11 Meade filter will do much to to bring out the mid equitorial belt on Saturn. I'll have to try that out next time.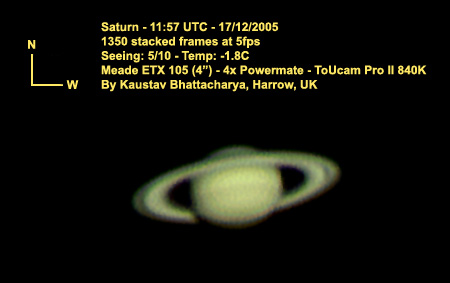 I had a rather peculiar experience when it came to processing the AVI files in Registax. I was using the Philips ToUcam Pro II 840K for the first time (thanks Robin!). It comes with a rather nice video capture application called VRecord. The default colour space/codec setting in in this software is set to I420. It appears Registax 3 doesn't like AVI files captured using the I420 codec. When I tried to process a 1350 frame AVI file it had only managed to stack 78% of the frames after six hours! I decided to capture an AVI indoors of the sofa and use the IYUV codec which is selectable in VRecord. Registax appeared to like this file very much. Therefore, I used VirtualDub to convert all the AVI files IYUV AVI files. I later received an email from the author of Registax who recommended I use the "Save old format AVI" in VirtualDub. I haven't tried this out yet but I'll give it a go later.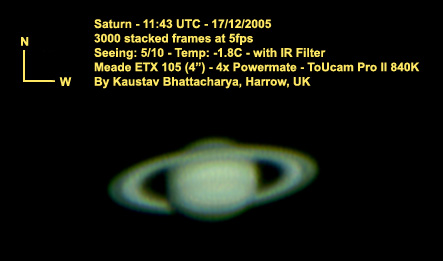 Seeing cinditions were pretty average to poor tonight, even though it was cold and cloud free. I had trouble getting a sharp focus. I'm going to have to make a Hartman mask very soon and use that to see if I can improve the accuracy of my focusing.