Imaging Mars for the first time
I received my five meter "active"
USB2 cable
today which enabled me to hook up my Meade Lunar Planetary Imager (LPI) to the telescope and then retreat back in to the warmth of the house and tinker with image capture using Meade's Autostar Suite software. The cable performed very well with no loss of data.
Tonight's target was Mars. This was my first attempt at imaging Mars so I was quite excited. I set up the ETX105 in polar mode, though the accuracy was some what rough and ready, resulting in the image drifting out of the field of the view within about three minutes. However, this was enough to allow me to integrate for a good duration of time and capture some images. All images were captured and stacked in Meade's Autostar Suite and later processed in Photoshop. I have captured some more images as FITS files and I intend to process them in Registax 3, however I haven't had any recent experience using the software so I'll have to RTFM and work out how to use it :-)
Here are the results of my efforts from tonight. The third image was taken with a red filter attached to the LPI.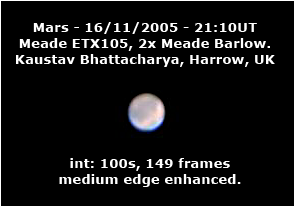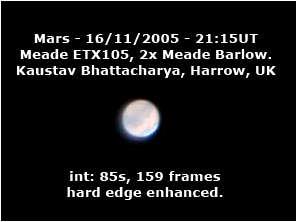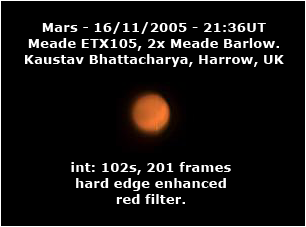 I guess these images are OK for a first attempt but I'm not overly thrilled with them. I may try and achieve a sharper focus next time and use Registax to bring out more detail from the image.